Zainabia Women Welfare Society Kargil , Ladakh (Regd.)
" A Man can achieve Acme from the lap of a woman ( Mother)'' – Imam Khomeini
Women being an equal and important stakeholder in shaping a society Imam Khomeini (R.A) Memorial Trust has taken the initiative to institute 'Zainabia Women Welfare Society"  to empower women. This provides women a platform to  get themselves organised and an opportunity to raise their voice on issues affecting them.
It also runs Draul Quran ( Quranic Knowledge Centre) specially for girls in the heart of Kargil town for 125 students' and 3 lady teachers.


ZWWS has a sub organ of Volunteers named "BASEEJE ZAINABIA" , around 600 members, below 40 years.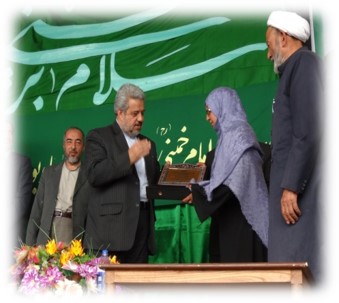 Baseej e Zainabia
Baseej e Zainabia is a wing of ZWWS for the young girls.
The Baseej( Volunteers) group of the organization was established in 2012.
The purpose of this wing is to promote Islamic teachings on volunteer basis in the town and the far flung areas of the district. Baseej e Zainabia has launched initiatives such as like Hijab Campaign.
The Baseej organization also organizes  social and religious  functions for the women . They prepare , decorate the venues and provide every possible support. 
In a short period of time Baseej e Zainabia has increased its reach and membership manifold.
Activities of ZWWS
Zainabia Women Welfare Society organized various  programmes:
Religious  gatherings and celebration of important days including Shab e Qadar Program on 19th ,21st  and 23rd  day of the Holy month of Ramadan.
ZWWS organized Quranic competitions and programs  for elder women and the children to create  an religious and empowering environment.
 Members of ZWWS participated  in  gatherings to  protest against inhuman treatment inflicted on   Palestinians and other Muslim communities in other parts of the world.
ZWWS also organizes programmes on the occasions of Eid, Muharram , Nurse day, Women's' Day,  and on the auspicious  occasion of Holy Ayimah( S.A) and   birth anniversaries. Where  Muslim  and non Muslim women participate.
 It organizes functions for adolescent girls  namely "Jashn e Takleef'. This is a unique program where only  young girls participate .
 ZWWS organised  many awareness  Campaigns on Islam for women in Kargil.
A Quran learning center  for women is also functioning in the town 60 students are enrolled and 3 teachers are appointed.